A benefit (or a cost) of having clearly defined rules is that you can see when exceptions are made. (What could look like flexibility in a private sector environment can look like corruption in a public school system.) The Washington Post has the story:
"A D.C. deputy mayor resigned Friday after helping the public schools chancellor bypass the city's notoriously competitive lottery system and secure a coveted slot for his teenage daughter at a top high school.
"The resignation of Deputy Mayor for Education Jennifer C. Niles is immediate, Mayor Muriel E. Bowser said Friday. The mayor said in an interview that she has ordered Schools Chancellor Antwan Wilson to issue a public apology and has referred the matter to the Board of Ethics and Government Accountability and to the inspector general to examine whether the head of the city's traditional public school system violated the code of conduct.
"My decision was wrong and I take full responsibility for my mistake," Wilson said in a statement. "While I understand that many of you will be angered and disappointed by my actions, I'm here today to apologize and ask for your forgiveness."
********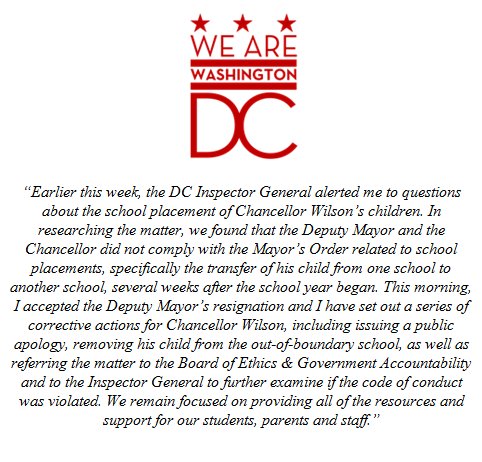 **********
Update: the Chancellor has resigned as well.
Here's the Washington Post story, which includes a video distributed by the school system describing the school choice process:
D.C. Public Schools leader to resign after skirting school assignment rules
"Parents and council members quickly rallied behind the mayor's decision, saying the chancellor cheated a system that D.C. families struggle to navigate."